Lectures in Global Political Economy: Use of nClass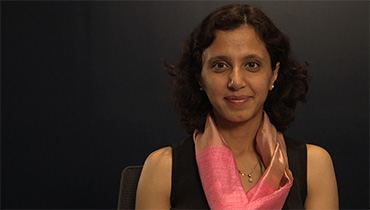 Shareen Joshi (School of Foreign Services) · Round 2
Principal Investigator Shareen Joshi sometimes struggled to understand whether her students of varying backgrounds were following her economics lectures, whether they were convinced by any opinion she was presenting, and whether they needed more information to truly understand the topic being discussed. She turned to nClass, a free cloud-based application created by two Georgetown University alums that enables each student to actively participate in class using their smartphone or tablet. The technology can be used for attendance, polls, discussions, reactions and in-class live feedback.
Joshi's goals for using nClass were three-fold:
To obtain more information about the students' understanding of the subject matter in real-time.
To encourage participation. nClass gave students a place to record their reactions, thoughts and ideas in a forum where both the instructor and other students could see them without disrupting class.
Increase student preparedness for class.
Over 80% of her students found nClass to be a useful way to capture class participation, and many of them wanted nClass to be even more integrated into the life of the class. Students reported that the questions on nClass kept the lecture engaging and that it kept them accountable to doing the reading ahead of time. In addition to using nClass during her own lectures, Joshi asked the whole class to give feedback using nClass during student presentations, which helped students to receive a wider range of comments and reactions.